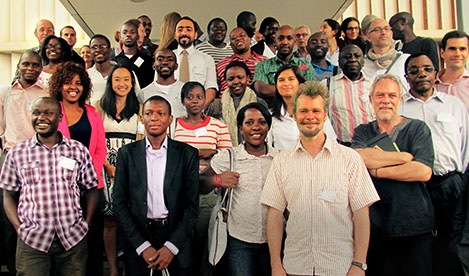 A few of the conference participants.

The Conference
This Conference aims to address the practice and principles of sustainability in the context of architecture and urbanism in the Global South.  The conference provides a forum to examine and discuss architecture and urbanism and to stimulate debate and discourse.  More than 30 peer reviewed papers will be presented, and will form the for dialogue for a sustainable future.  Click here for the conference programme.
The Workshop
The Workshop on Energy Efficiency in Buildings in East Africa is envisioned within the Programme "Promoting Energy Efficiency in Buildings in East Africa".  This regional GEF project has the objective to mainstream Energy Efficiency measures into housing policies, building codes, municipal bylaws and building practices in East Africa in order to achieve considerable avoidance of GHG emissions as a result of improved buildings and building practices.
The Workshop, sponsored by the UNHabitat Energy Programme will provide training on energy efficient design practices for architects from across East Africa.  This is  a key step in ensuring the implementation of energy efficient practices in the region. Click here for the workshop programme.
Sponsorship
Sponsorship opportunities are still available for companies and individuals wanting to demonstrate their leadership and support for the conference. For more information, contact Alex Ndibwami.  you may also download a list of Sponsorship Benefit Packages.
Organised By:

The Faculty of The Built Environment
Uganda Martyrs University
Supported By:


UGANDA SOCIETY OF ARCHITECTS

School of Architecture, Landscape Architecture and Urban Design,
The University of Adelaide
School of Architecture and Planning
University of the Witwatersrand, South Africa

School of the Built Environment
Heriot-Watt University, United Kingdom